Waterproof Wireless Solar Motion Sensor Street Light is a popular choice for many looking for lighting only when needed. The lamp will switch on when motion is detected. That makes them ideal for use as a security light but also for convenience lighting. Install one for the back yard or patio area and perhaps one near your front door, porch or garage. The motion sensor is usually attached to the light fixture. We offer a selection of solar powered motion detector lights most of which use the latest LED technology. They are all easy to install (DIY) almost anywhere and come complete with a solar panel. Simple, secure online ordering with worldwide delivery.

Working Instruction (From Dusk to Dawn)
Keep Pressing the button 3 seconds directly go to ON/OFF MODE.
Press button again--go to Full/Dim brightness Mode(Defaulted). After 5 hours turn to the ON/OFF mode.
Feature
1. Adopt the motion sensor, when someone or car approached, the light will turn on instantly for 20-30 seconds,
when no motion or motion left, the lamp will turn to 1/3 brightness(1w) or turn off. energy-efficient power.
2. Use Solar power, LED Lighting, both of them perfect combination, save energy and protect earth's resources.
3. Use High-capacity Long-life Lithium Iron Phosphate battery, High temperature properties, long service life.
ensure long lifetime.
4. Integrated design, no cable, wireless, Easy to install, offer a variety of installation methods, lamppost local,
material, can iron posts, wood, bamboo, plastic, low cost.
5. Waterproof and Weatherproof.
Tips
1. In winter, the solar light is not able to be fully charged for the lack of light, so its normal if the solar light is not
bright enough and illumination time is short. Light time depends on how much it is charged during the daytime.
2. Be sure to charge the product in full sun for 8 hours before use, please mount in the direct sunshine place.
Technical Specification
Product name

10W Solar Street light with Motion sensor

Full Brightness Power

8-10W

Type

Integrated LED Solar Outdoor Lighting

Dim Brightness Power

1w

Solar Panel

12v/800mA, 9.6w Mono-si Solar Panel

Power Consumption

0.1w

Solar Panel Size

331*171 mm/ 13inch*6.73inch

Source

Solar

Controller

AM-TY-10RY (83*23*1.2mm)

Charge time(H)

8 hours under the sunlight

Battery

26650 Lithium iron Phosophate Battery 9.6v/6.6Ah

Operation time

(100% brightness)

>12hours

Body Material

Die-casting Aluminium Alloy+ABS PC Housing

Working Time in Cloudy&Rainy day

3-5 days

Luminous Flux(lm)

750lm

Luminous Efficiency

70lm/w

Beam Angle

120degree

CCT

6000k

CRI

>70

Life time

>30000h

Lamp size

430*202*40mm /16.9*7.95*1.58inch

Net weight

2.2kg

IP Rating

Waterproof IP65

Warranty

2 Years

Theory

Doppler Microwave Radar Sensor

Sensing Type

Photocell/Daylight Sensor+Radar Sensor

Sensor Range

180*360degree

Sensor Distance

6-10m

Height Installation

3-4 meters off the Ground

Delay time

18-25s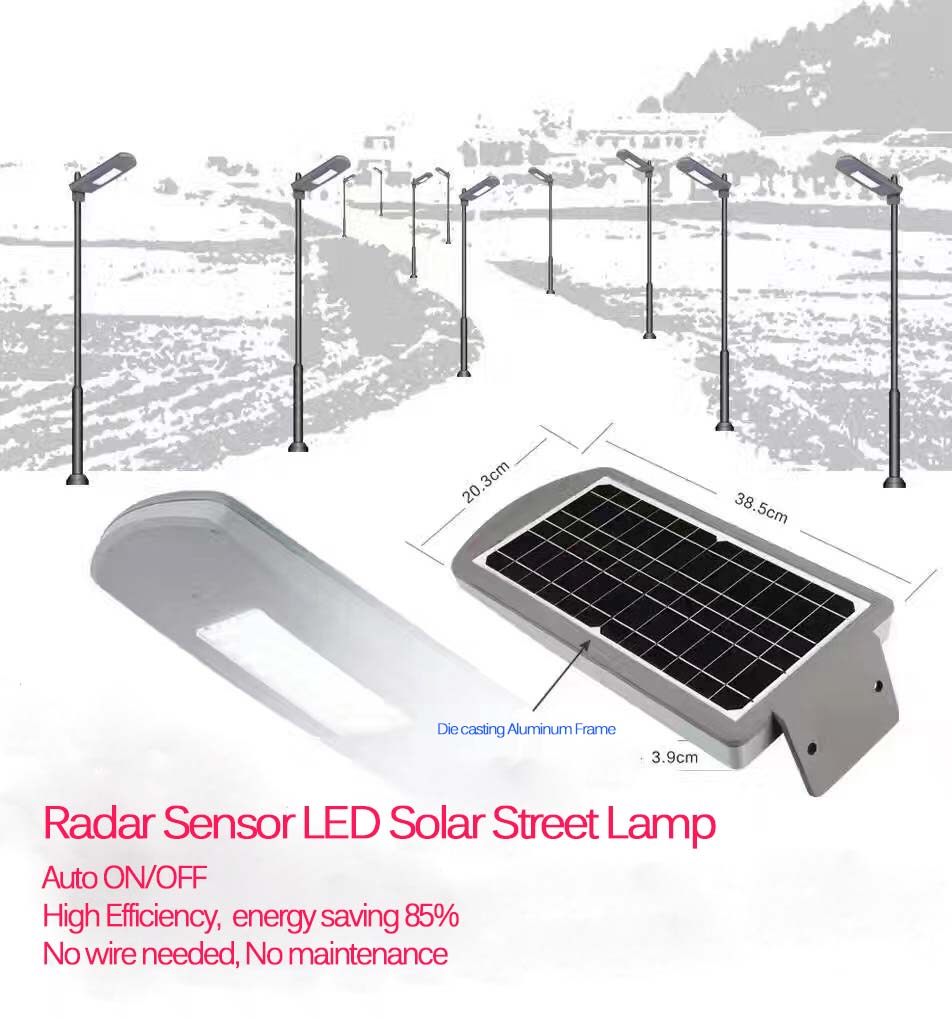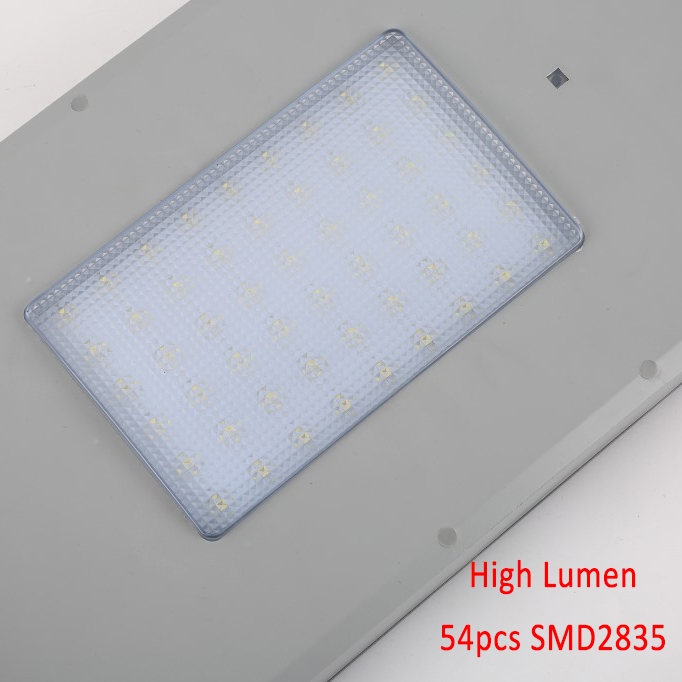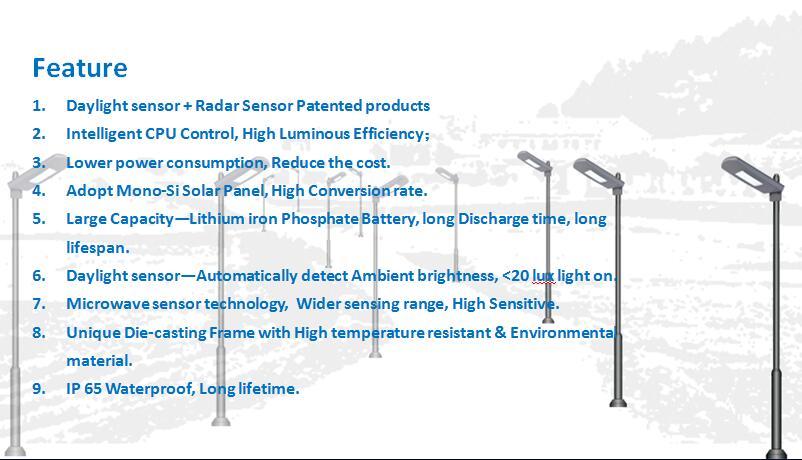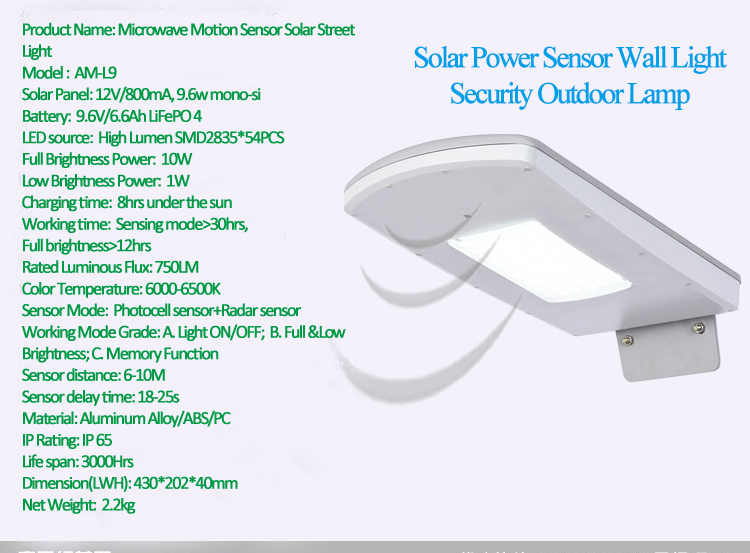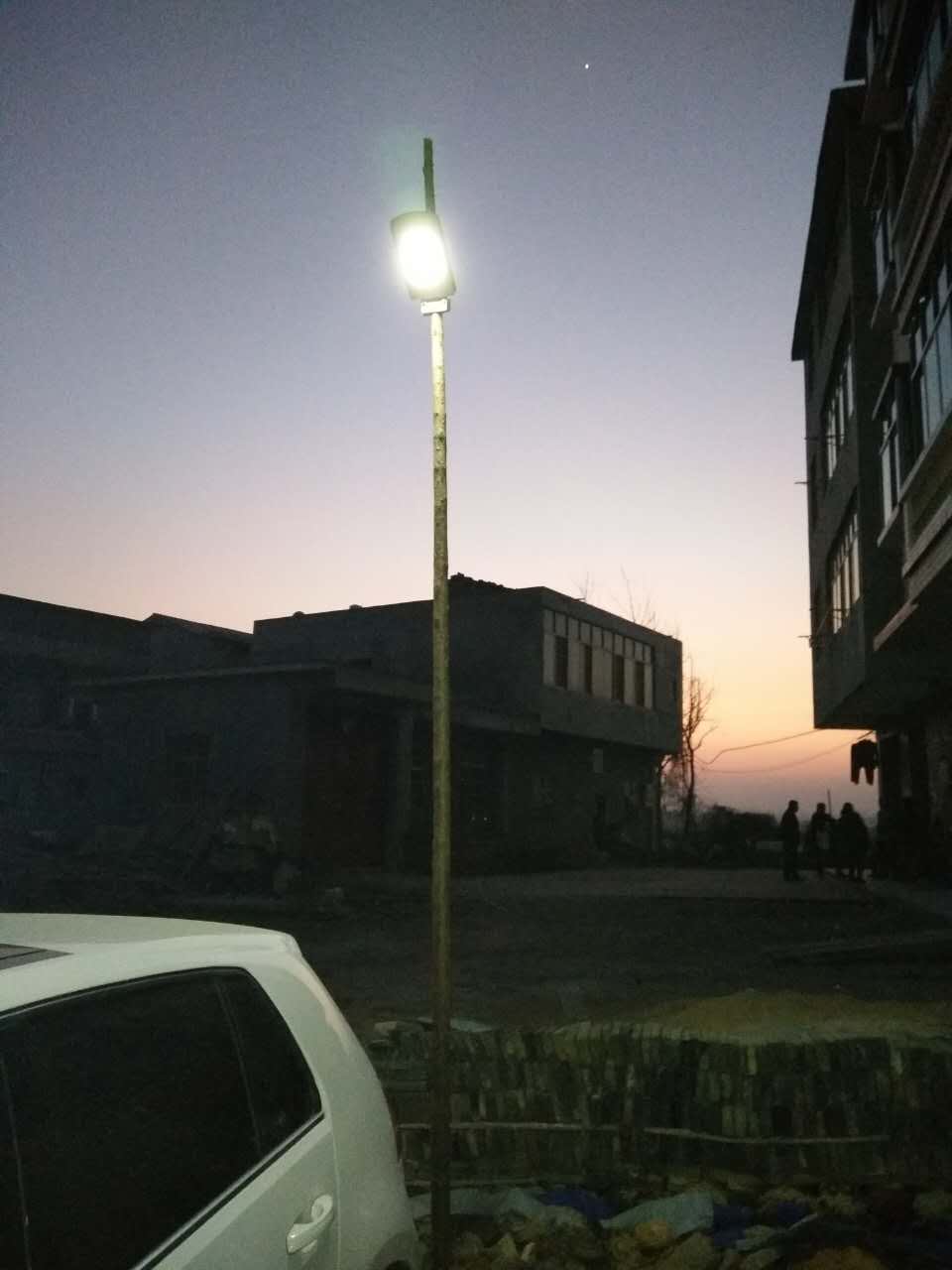 Группа Продуктов : Солнечный датчик движения > 10 Вт Солнечный Датчик движения уличный свет